The WUUC Ministerial Search
We are actively seeking a new minister for the 2020 church year. Please contact Kermit Sprang from the search committee for more information. We've created this short video to introduce you to our beautiful facilities.
You will find biographical information about the members of the search committee below.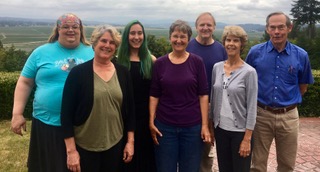 Jessica Belmont
I started attending WUUC in 2016 after my wife passed away, and became a member that same year.  I participated for a while as a Hospitality volunteer in 2016-2017.  Currently I am one of our Lay Pastoral Associates, and am active in our LGBTQIA+/Welcoming Congregation Renewal justice group.  As a trans member of our community, I have participated in our Trans Day of Remembrance, Pride Sunday, and Trans Day of Visibility services.  I made the decision this year to return to school, with the goal of becoming a Unitarian Universalist religious professional.  I have made many connections and friendships within our community over the past three years, and I feel that WUUC is not just "my church home" but the family that I have here in Washington.
Jack Brand
I am passionate about the mission of WUUC, and the health and evolution of this congregation. I have been involved in a wide variety of WUUC activities, often in a leadership role.  I am currently a Youth Group Advisor; in the past I have served as Board member (VP and then President), Choir Director, on Music Committee, Advisory Council on Ministry, and was on the initial Ministerial Search Committee that brought Rev. Alex Holt to WUUC as a consulting minister.  I have been involved in denominational activities including Youth conferences, PNWD District conferences, and UUA General Assembly (where I have presented).  I have been a UU for 40 years and a member of WUUC since 1993.
Lori McConnell
I joined WUUC in 1992 looking for community.  I started volunteering at the minister's invitation right away and, before I knew it, I was running the rummage sale, serving on committees, and generally immersing myself in a generous and abundance-based community.  I met my husband here and since then have served on the Board twice, participated in the building of our beautiful space, and finally found my place in church leadership by serving as Membership Chair for several years. I believe that WUUC can provide the antidote to what can be an overwhelmingly stressful world outside our walls, and that the connection and peace our community provides allows us to go out into the world and make a difference.
Leslie Morton
I joined WUUC with my daughters almost 16 years ago.  Over the years this community has come to mean a great deal to me and my family.  I've had the opportunity over the years to try many things:  Nursery/R.E., Hospitality, VEN (Volunteer, Engagement and Nominating Committee), Women's Retreat, the Board, Search Committee for Rev Lois, Soul Matters, Choir and the Rummage Sale.  I look forward to a chance to further contribute to this community as part of the Search Committee for our next Minister.
Emma Louise Rockenbeck
I have been a part of WUUC since before I was born.  I was born in 1994, two years after my parents joined the church. As a child I participated in RE, and interacted with WUUC members at coffee hour, potlucks, and other events. I remember Rev. Barbara Wells, Rev. Alan Taylor, and Rev. Alex Holt well, and the ways in which their different leadership styles shaped the culture of the church over the course of my life.  I went to a small private school in middle and high school, so I found my central social group through Pacific Northwest District UU young adult leadership and the WUUC youth group. In 6th grade I participated in the Coming of Age program, and I feel grateful for the connections I made with my fellow youth group members and the adults of this congregation that lead us through the coming of age process of self-discovery. In high school, the WUUC youth group took on a number of challenging projects, including raising money to travel to and attend GA together. In 2011, I participated in a week-long leadership training course with a group of youth from across the district called the Goldmine Leadership School. Shortly after, I was elected to join the PNWD Youth Empowerment Services Team, which organized the young adults of the Pacific Northwest District and planned spring and fall youth cons. I was also a Spirit Corpse member at youth con from 2011 through 2013, and took the chaplaincy training course in 2012. These experiences were central to forming who I am as a person, and as a leader, to this day. From 2014 to 2018 I was a student at Allegheny College in Meadville PA. While in Meadville, I attended the Unitarian Universalist Church of Meadville, and met both their previous minister and their interim minister. At Allegheny, I was chosen as the UU representative for a number of interfaith events put on by the Office of Spiritual and Religious Life, and I co-lead an interfaith prayer circle in the wake of the Standing Rock protests. I have recently graduated and returned to the area, and hope to put my leadership skills to use and become more involved with my home church community.
Kermit Sprang
I joined WUUC in December 2017. I'm currently serving on the Finance and BAG committees. I'm in the choir and also volunteer as a sound board operator.
Aggie Sweeney
I joined WUUC with my husband and kids 25+ years ago, seeking a like-minded spiritual community. My professional life focused on strengthening nonprofits, and my leadership roles at WUUC have applied that experience with service on the Stewardship and Endowment Committees and a term on the Board. Over the years I have also been a volunteer with many of our education programs for children and youth. In the past I served other UU congregations as a Stewardship Consultant, which helped broaden my appreciation for recognizing readiness for stability and growth. I am recently retired, with time available to dig in to meaningful service for our church.